As you explore the differences in wood species, you'll notice two main ways the wood tends to move (for more on wood movement see Part 1). These two ways are called tangential shrinkage and radial shrinkage. It's helpful to check out a reference chart so you can see the tangential and radial shrinkage as well as the tangential to radial T/R ratio for different species of wood.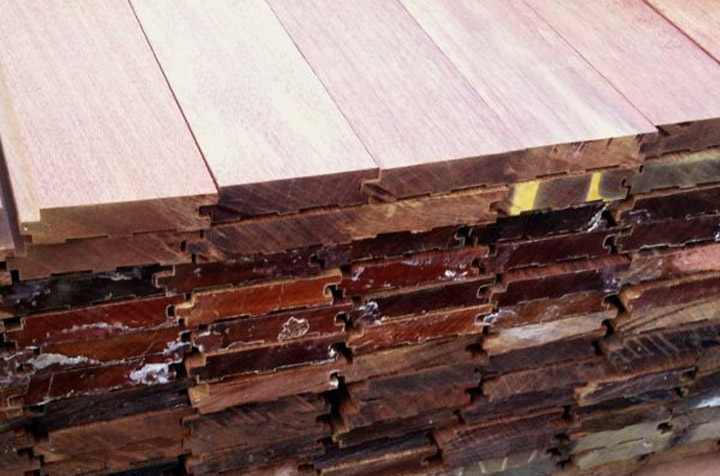 Tangential and Radial Shrinkage Explained
If you're not familiar with these terms already, tangential shrinkage refers to wood expanding and contracting along growth rings. Lumber's most significant form of movement is tangential shrinkage. Radial shrinkage, on the other hand, is its movement along the medullary rays. These radial rays, which run perpendicular to the tree's growth rings, are what take nutrients from the outside into the heart of the tree. Wood's longitudinal movement along a board's length is relatively insignificant compared to its tangential and radial movement.
How to Analyze the T/R Ratio of Wood
Wood that has a low level of tangential vs. radial movement (also known as the T/R ratio) will be a more stable species. The more stable the wood is the less likely it will be to cup and warp after installation. Choosing your wood species for certain projects based in part on the T/R ratio is smart. That's because species with certain T/R ratios work out better on different jobs. You'll also want to talk to a lumber dealer with expertise in figuring out which species of wood will work best in different conditions.
Applying Your Knowledge of Wood Movement
Finding out about the reasons and types of wood movement is only half the battle when it comes to preventing the wood from cupping, twisting, bowing, and warping. The second half is putting that knowledge to good use on your next project. If you don't want to see adverse results, be sure to follow some simple steps which we have listed below.
Allow Time for the Wood to Rest
Whatever species of wood you choose, you'll notice that it doesn't behave in an even, uniform manner. It moves somewhat unevenly depending on the amount of moisture content contained within the different parts of the tubes that run through the board. The ends of the boards will normally tend to dry up first, like a straw with water dripping out the ends. That's one big reason why you see warped, cupped areas along your boards if you don't take the necessary time to allow them to rest when they reach the job site. Keeping your wood in the sunlight or tucked away under a tarp can also make a difference in the wood's moisture content.
Avoid Heat and Sunlight
Direct sunlight and heat can make your wood dry out too quickly. Stacking the wood in an area with plenty of ventilation and placing small chunks of lumber between the boards can help the wood to dry out more evenly. If you allow time for your wood to acclimate, keep it out of direct sunlight, and provide ventilation, you're likely to see great results in your next project.
You'll never be able to completely prevent wood movement. Keeping these tips in mind will help you keep the impact of that movement on your finished project to a minimum.