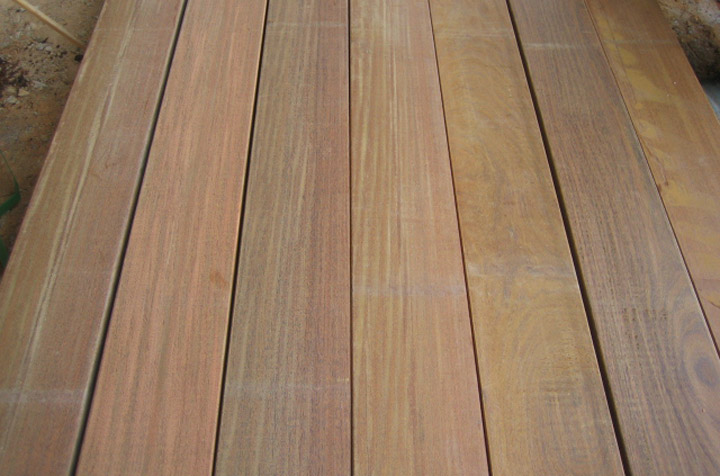 Along with accommodating shifts in moisture levels and the extreme hardness and density associated with tropical decking lumber species, you'll want to make sure you understand the unique challenges these species pose when it comes to color matching. Even if you have generally realistic expectations about color matching lumber, you might be in for a surprise if you're not familiar with the challenges that come with tropical hardwoods.
One issue that makes color matching more of a challenge for tropical hardwood lumber species is the remarkable degree of variation within any one species. The variance you can expect in both color and grain pattern can be pretty significant. Of course, that same characteristic of these beautiful lumber species also contributes to their attractiveness. Pressure treating and staining can reduce the swing in color variation; however, real lumber will never allow the kind of exact matching that engineered products do such as composite decking.
The reason for such a wide range of coloration is, for some species, tied to their extremely diverse growth ranges. Ipe is one such example. Each area throughout the wide growth range of Ipe has its own set of factors that contributes to a unique growth pattern and coloration. When a single saw mill combines Ipe lumber from a variety of areas as it packs shipping containers, diversity is to be expected.
Besides the wide growth ranges associated with tropical decking species, another factor that affects the appearance of the boards is tied to their journey from the forest to your job site. In short, there are many miles and months between where and when your boards were first milled and their arrival on your job site. During that long journey, they've had plenty of time to accumulate dirt, grime, and water stains. All of that will contribute to their appearance. Once the boards are installed on your deck and sanded, you may be surprised at how much better they look!
In addition to the diversity in appearance from one board to another, you can also expect differences in appearance when you compare freshly milled decking lumber with lumber that's had time to oxidize. While all species experience color change, tropical hardwood lumber often displays a more significant shift. As the color mellows over time, the color variation will become less significant, allowing for a better match. In addition to the initial mellowing of color variations, you can also expect your tropical decking — like any untreated wood species — to take on a silvery gray tone over time. If you prefer to avoid this kind of "sun bleaching," be sure to treat your tropical hardwood decking.