Truth: Buying Tropical Lumber Is Actually Good for the Rainforests.
Perhaps no other myth surrounding the lumber industry is as widely held — or as far from the truth. Perhaps it would be true, or could be true, in an imaginary world in which money did grow on trees — except, then, that money could be accessed only by disturbing the forests of those money trees. But I digress.
The reality is that if landowners — and the economies in which they exist — cannot make a profit from the land within the lumber industry, they will lose their incentive to allow the land to host tropical rainforests. Regardless of the rainforest's value to the global ecosystem, the continued existence of an area of rainforest is tied to whether it can continue to turn a profit.
Since the lumber industry is sustainable, unlike many others (such as oil), the lumber industry actually provides an economic incentive for tropical rainforests to be allowed to remain.
The lumber industry does affect deforestation — but not how many people think it does. It's when the lumber import trade is disrupted — whether by governmental forces or natural fluctuation of the market — that deforestation actually occurs.
Certainly, poor forestry management practices have caused clear-cutting and shortages in the past, and some illegal harvesting does continue; but generally speaking, today's deforestation is generally caused by the very forces that are intended to protect the forests they destroy.
For instance, the markets for many exotic species, such as Genuine Mahogany, Ipe, and Teak, are being regulated by a litany of governmental and corporate entities. All that legislation and paperwork translates into time and added expense, causing rises in price and longer lead times that result in decreased demand and production. Of course, that same regulation has helped decrease irresponsible forestry management and has allowed for easy tracking of supply chains.
The greatest impact on deforestation actually comes in the form of logging bans. When an area of forest is banned from logging, the result is that sawmills shut down.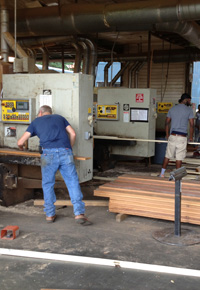 While that might seem like a victory for the forest, it's actually a defeat for locals who have no way to provide income for their families. The timber once considered so valuable no longer has any value, and landowners need to find a way to make money from their land. When logging is no longer an option to provide for that need, they're essentially forced to burn the worthless timber in order to allow for agricultural pursuits or cattle grazing.
Rather than an anomaly, that kind of land-repurposing is the most common reason for deforestation. Along the Brazilian Amazon, from 2000-2005, agriculture accounted for 25-30% of deforestation while cattle ranching caused 65-70% of deforestation. The logging industry accounted for a mere 2-3%.
At the end of the day, it's pretty clear that the Lumber trade gives value to timber. Forestry is not an enemy, but a friend to the local economies as well as to the rain forests, and by extension, to the global ecosystem on which we all rely.