Customers frequently know exactly what they want in a deck, even with the size gaps between the boards. However, most customers are unaware that, similar to how a stopped watch is accurate twice a day, their chosen decking board gap can only be accomplished for a portion of the year.
Wood moves like an organic substance, expanding and contracting in response to seasonal changes in moisture levels. As a result of these fluctuations – let alone geographic considerations – opinions exist throughout the lumber business on the subject of decking board gaps.
Movement Predictability
Despite the aggravating reality of expansion & contraction, wood has one advantage: its movement is predictable. We should expect the board width to grow as moisture levels rise, because wood fibers behave like a bundle of straws sucking in moisture from the air.
As a result, the best time to build a deck is in the summer, when the high humidity levels across much of the United States mean that wood expansion is at its greatest (and decking boards are swelled to their greatest width). Decking gaps, when constructing a deck at that time of year, should be intentionally minimal.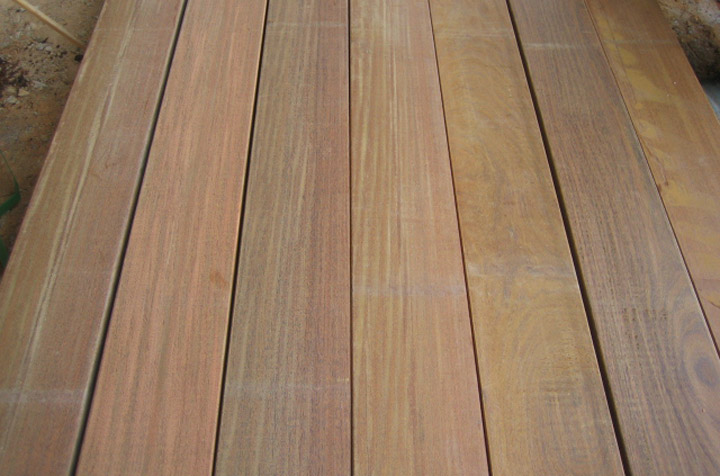 Movement Variations
While each species of decking wood moves in a unique way, their movement attributes are predictable, allowing you to plan for shrinkage based on current temperatures and humidity levels, as well as the expected swing in the climate at your project site.
Aside from differences in wood species, different types of anisotropic movement might be expected based on how the wood was cut. Quartersawn boards, for example, move relatively little throughout the breadth, but flatsawn boards move a lot.
Creating Movement Space
When planning the spacing between your boards, think about the humidity level, the time of year, and the species, as well as which direction the movement will proceed. For example, if you're building a deck in a humid area during the summer, keep in mind that the boards will be as "bloated" as they can be, so putting them closer together will prevent people from losing their keys or cell phones down large cracks, even if the deck is snow-covered.
If you install the decking during cooler weather, though, the cool air can't contain as much moisture, so your boards will likely later expand when the temperature rises. You'll lose more than your keys if you lay the boards too close together during the cooler, dryer winter; you'll also lose out on the cost of that lumber when you have to replace the deck next year due to the decking being ruined by significant expansion in the summer.
When it comes to optimal gaps, it is a matter of personal preference, but you can't let your installation be only guided by your customer's desired gap size for whenever they'll be using their deck the most. Planning for the reality that gap sizes are expected to change greatly throughout the year – especially during hot, humid summers – is more important than gap sizes themselves.