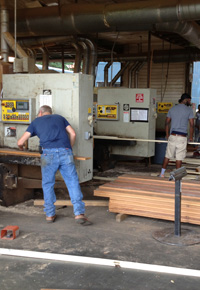 As a North American lumber supplier, we sell more 4/4 lumber than any other lumber thickness. As African species such as African Mahogany, Sapele, and Utile continue to grow in popularity, we've begun to have trouble keeping enough 4/4 thicknesses on hand. What that doesn't mean is that there's any kind of shortage of those species or a shortage of thicker boards cut from them; to find out what it does mean, keep reading.
Global Market Considerations
We have no trouble getting 8/4 or 12/4 lumber from these enormous and prolific African species that grow over expansive areas. The issue with limitations of thicknesses is actually tied to the global lumber market and economic issues. Since sawmills must respond to global demands instead of risking losses by sawing boards only suitable for the North American market, African sawmills simply don't cut an abundance of 4/4 boards.
We're not exactly sure why, but we do know that most other markets prefer thicker cuts of lumber. Both European and Asian markets like 8/4 and thicker lumber, so that's generally what the African mills cut. Not only is there more demand for 8/4 and thicker boards, but sawing 4/4 lumber requires more labor and loss, due to sawing waste. So in the end, 4/4 boards cost the mills more money to produce. For the mills, this means that cutting 8/4 boards instead of 4/4 boards is highly preferable.
North American Market Considerations
Even though the North American market pales in consideration to the rest of the world, it is still significant enough to warrant North American production runs from many mills. However, those production runs end up being unprofitable for the mills. Because of the need to saw close to the edge of the log to include more sapwood, sawing 4/4 lumber results in lower quality common grades. That thinner stock isn't nearly as stable as the thicker stuff, during the shipping and drying processes.
When you pair those issues with the fact that Americans are quite picky about accepting only FAS-equivalent, clear-grade lumber, you'll understand that the common-grade 4/4 lumber ends up being unsalable — in North America because of the quality, and in Europe and Asia because of the size. So it's in the best interest of the mills to keep sawing 8/4 and thicker boards.
Window and Door Considerations
An added issue comes up for U.S. window and door manufacturers, who find 4/4 too thin but 8/4 too thick for their uses. Because 8/4 lumber leads to much waste, they've established a market for 5/4, 6/4, and 7/4 lumber. However, because most of the global market is still buying 8/4, 12/4, and 16/4 lumber, they end up in the same quandary as the North American market at large.
The bad news is that thicknesses of 4/4, 5/4, 10/4, etc., will continue to be difficult to source, and prices of those we can attain will continue to rise. Want some good news? Check out Part 2.