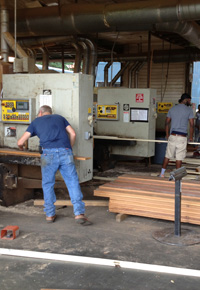 Lumber shipping considerations for our Caribbean Customers.
Offering timely nationwide shipping across the United States is one of the many services that sets J. Gibson McIlvain apart from many of our local competitors. As direct importers of many exotic species who keep a large inventory of wood varieties readily available, many of the builders and contractors across the nation have realized that they can get materials from us more quickly and at a lower price than they can from their own local suppliers. Surprisingly, Caribbean builders have found the same scenario to be true.
Bargain Pricing Isn't Enough
Even with the competitive pricing we can offer by cutting out the middleman, we'd be foolish to think that benefit would eclipse other issues. Our millwork operation can handle large custom orders, and the lead times we offer are faster than most, but we realize even those benefits won't make up for materials that arrive on job sites damaged or which fail to arrive at all. When it comes to delivering to the Caribbean islands, we've learned to take the extra steps needed in order to deliver our quality lumber on time and in excellent shape.
Special Concerns Require Special Treatment
All builders and contractors understand the stress of trying to finish a construction project on time, within budget, to customer specifications. Well, for those builders located on Caribbean islands, the stress level is heightened. For one thing, simply attaining the necessary materials is a challenge. Long lead times, late or damaged materials with little to no recourse, and missing parts of a shipment are all-too-common in these island locales. Customs often holds up lumber shipments, contributing to greater chances of damage from forklifts or shifting. Sometimes outer layers of lumber shipments are exposed to the elements, causing fading and oxidation that make for unattractive installations.
We've Developed a Plan
As we've considered all the unique challenges of our Caribbean customers, we've developed a set of solutions. In response to concerns over outer layer oxidation and fading, we can essentially shrink wrap an entire lumber order in a UV wrap that protects it from water damage as well as results of sun exposure. In addition to the wrap, we've found that building up a crate around entire orders helps protect them from damage during loading and unloading, as well as when being stored at port.
We've found out the hard way that keeping multiple orders packaged as a single entity helps materials not to go MIA, and keeping up with customs requirements and paying attention to details in paperwork help shipments to flow through customs smoothly.
Even if you're not in the Caribbean, we're pretty sure you can appreciate a lumber supplier that considers unique situations and responds with such attentiveness. We're sure we'll continue to learn the hard way, but as long as we receive feedback from our customers, we'll continue to put preventive solutions in place. Wherever your next building project takes you, we'd be honored to supply the lumber and millwork that you need.