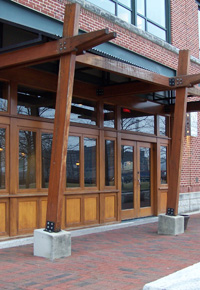 If you're a long-time Genuine Mahogany customer, you've probably noticed that we're trying to steer you in a different direction, lately.  Not only do many African species rival South American Mahogany, but some of them even outperform Genuine Mahogany and respond better to fine moulded details. Because of Africa's certification and verification schemes, tracking inventory to the stump is entirely possible, and we're glad to support this kind of responsible system.
Maybe you're already convinced. In that case, you may be a bit frustrated to find out that African Mahogany has been dealing with its own set of issues. While it's nothing like a shortage due to overharvesting, it's still a significant issue in our little world, so let us explain for you what's going on.
The Basic Issue
Instead of a shortage of actual African Mahogany trees, the issue is that there's a shortage of African Mahogany lumber. Why? There aren't many people interested in harvesting, sawing, and seasoning this species. Similar to the fluctuation in price that hit Poplar in recent years, the situation boils down to a time lapse between increased demand and infrastructure necessary to rebuild supply.
Once upon a time, there was too much African Mahogany flooding the market, and that market wasn't quite meeting it with enough demand. So those in the African lumber industry focused on other species, as anyone wanting to make a profit would naturally do.
The Lack of Demand
While demand for African Mahogany within the U.S. has remained steady, we're really the only country who wants this species. Anytime a product is exclusively a U.S. product, it's significantly less attractive to mills than a product with a global demand.
The European market, for instance, favors Sapele. Since Europe still controls some of the African hardwood trade, European preferences strongly influence which species the African mills decide to cut. While this kind of governmental control over industry is foreign to most Americans, it's the norm for Africans.
When other industries, such as oil or gas, enjoy spikes in demand, governmental regulation stipulates that most workers focus on those areas instead of on less profitable ventures, such as forestry. When you combine those factors with the tendency that the North American market has to drive down lumber prices, you could say that we've contributed to the issue, ourselves.
The Current Situation
The current situation is that African Mahogany is available and at all-time low prices. However, saw mills are actually losing money to produce it, and production costs continue to climb — due to inflation as well as the increasing distance of unharvested trees from access points. Some mills are eliminating African Mahogany from their offerings – in favor of Sapele and Utile – while others are being forced out of business altogether. The remaining few suppliers are running a tad behind. As we continue to seek out new suppliers, we're experiencing delays. In the meantime, prices are fluctuating wildly, and we realize that we simply can't predict when orders will materialize.
Continue reading with Part 2.