Many have seen African Mahogany as the answer to the issues facing Genuine Mahogany. Due to the downgrading of the South American species, interest in its African cousin have increased, at least from North American buyers. But, as we discussed in a previous post, the fact that African Mahogany is really only a North American product has contributed to issues with its availability, leaving many of the same builders who had switched over from Genuine Mahogany understandably frustrated.
Maybe you're one of those frustrated builders. As always, at J. Gibson McIlvain Lumber Company we're on it. We're responding to this dilemma in a few different ways and have suggestions for those left in a pinch by the unreliable timetables and decreased availability of African Mahogany.
We're Looking for New Sources
As an Importer of Record, we work directly with African mills and have forged relationships with many of them. Even still, the current situation has caught us by surprise, and we've begun to seek out new suppliers. From what we're hearing from them, the only way they'll be able to profit from selling African Mahogany is to ship the lumber in larger quantities. As you can imagine, this kind of feast-or-famine situation leads to significant price fluctuations and even gouging: When African Mahogany shipments actually make it to U.S. shores, expect to pay a hefty price for it.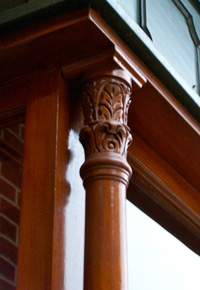 We're Adopting Realistic Expectations
While we're responding to the current dilemma, we're also looking behind it, asking why it happened and how we can do our part to prevent similar issues in the future. Over the years, as costs have been driven down by market pressures, the supply chain has broken down. Foreign entities simply can't afford to stay in business if they're not turning a profit; we may not like it, but that's how the world works. These economic factors are significant, and they can influence any species in the lumber industry. In fact, the start of something similar is plaguing the Sapele market, and if the pressures continue to mount, we'll likely see similar issues with Sapele availability.
When it comes to African Mahogany, we expect to see prices continue to climb, as long as demand remains constant. But understandably, people aren't quite as willing to place orders for lumber which has uncertain delivery dates. We can also expect a fair amount of resistance to prices dropping again, once prices climb back up for African Mahogany. With domestic lumber species selling close to 1960s rates, many see price drops imminent for exotic lumber species too, but with the import regulations and shipment costs, such prices being driven down to similar levels would only lead to more supply chain collapse. So we're not pushing for that.
We're Recommending Similar Species
While we try to work with African mills to come up with reasonable supply schedules and pricing that encourages healthy long-term African Mahogany trade in the future, the current shortage remains an issue. In the meantime, we highly recommend three alternatives to African Mahogany: