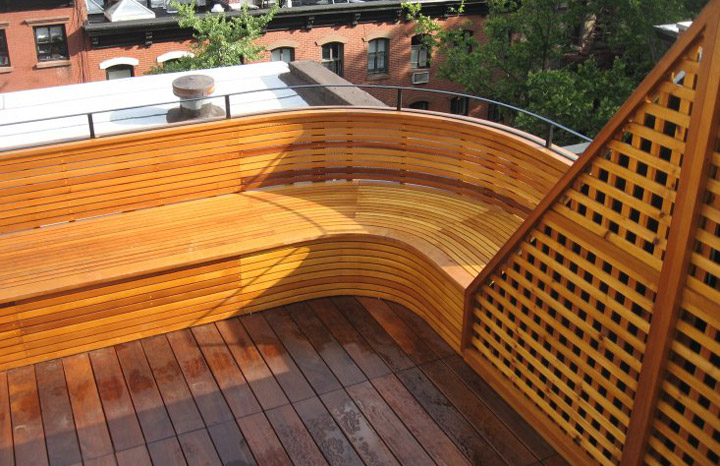 Tropical decking species offer high-end options for both residential and commercial boardwalks, decks, and docks. While Ipe outpaces all other tropical decking species by far, each of these options provides a great long-term solution for your home or business decking needs.
Ipe
Amazingly strong and stable, Ipe holds up far longer than the rest in just about any environment. When used for exterior projects such as decks, Ipe just needs to acclimate to your environment, allowing a reduced time frame in getting the decking lumber from the forest to your job site. (The limited buying season can be an issue, though.) The extreme hardness of Ipe contributes to its unmatched durability. The high demand for Ipe, coupled with its limited supply, adds up to a higher price point than almost any other lumber species.
Cumaru
Also known as Brazilian Teak, Cumaru comes in two basic variants: red and yellow. Red Cumaru is more popular for decking applications. Due to potential stability issues and shrinkage, expert kiln drying is required. Those shrinkage issues make Cumaru unadvisable for dry climates. Cumaru's hardness and density rival those of Ipe, but it's price makes it a winner, at about 2/3 the cost of the decking favorite.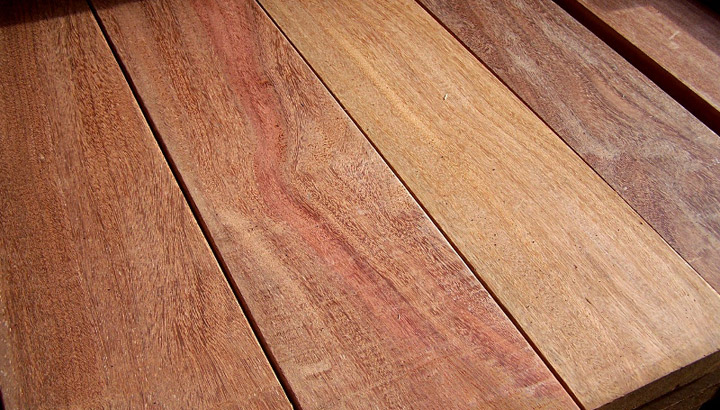 Tigerwood
With an orange-toned background and dark stripes, this species earns the name "Tigerwood." While the orange background will deepen to a reddish brown color over time, many enjoy its striking appearance as well as its stability. Although Tigerwood remains stable in a variety of climates, it does require kiln drying for both exterior and interior applications. Its striping can make consistency throughout a large area difficult to achieve though, and its premium smooth texture can become slippery when wet.
Massaranduba
Also referred to as Brazilian Redwood, Massaranduba is a very dense species which produces many boards with consistent, straight grain. The deep red color becomes more brown over time. While Massaranduba is only 80% as hard as Ipe, it is still quite durable. The biggest down side of Massaranduba is that during drying, checks and splits often result, and when used in dry climates, it can lack durability. In wet climates though, it can be an attractive and stable choice for decking.
Garapa
Also from Brazil, this dense, hard species boasts a unique lemon yellow color that's quite striking. With only 60% the hardness of Ipe, it's still much harder than most domestic species. The durability allows it to carry a class A fire rating like many of the other South American tropical decking species. With stains and dyes, Garapa can be made to look more like Ipe.
Cambara
With characteristics similar to those of Mahogany, Cambara is far superior to domestic decking species such as Red Cedar and Southern Yellow Pine. Although far from rivaling the density of the others, once kiln dried, Cambara becomes quite stable. Priced similarly to domestic decking species, this tropical alternative is also one to consider.