Perhaps in your world, spring means planting a garden or finishing classes. Here at J. Gibson McIlvain Lumber, it means getting ready for deck-building season (which some people refer to as "summer"). During this preparation period, our millwork experts spend the majority of each day grooving Ipe decking boards to prepare them for hidden fastening systems. Trucks are constantly being loaded with Ipe shipments bound for various points across the country.
While Ipe remains our top-selling decking species, its price continues to climb. In case Ipe becomes inaccessible to you or your customers, we're pleased to be able to recommend several stand-ins for Ipe, all suitable for this season's high-end decking projects.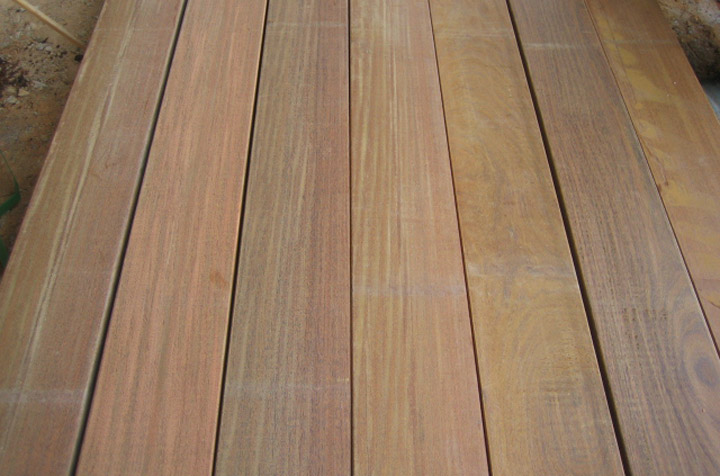 What We Love About Ipe
Ipe is still our top choice for decking, and there are good reasons for that. Almost incredible stability, strength, and hardness make it extremely resilient. The fact that it doesn't need to be dried allows for a pretty impressive turn-around timeframe, from forest to job site. Whether you're working on a private home or a public boardwalk, Ipe's superior performance makes it an ideal option. Of course, the high demand for Ipe combines with its excellent characteristics and limited availability to put it at a higher price point than its competitors.
What's So Great About Cumaru
Only slightly softer than Ipe, Cumaru comes in two variants: yellow and red. Also known as Brazilian Teak, the red variant is a great stand in for Ipe. Cumaru can be risky if you're in a particularly dry climate, since shrinkage can become a problem; without careful kiln drying, Cumaru can also become unstable. In most climates and with proper drying, though, Cumaru is an excellent alternative to Ipe. Its reddish brown coloring and similar hardness and density make it similar to the decking champion, while availability and a lower price point make it preferable to many.
Why Red Balau Might Be Right for You
Distantly related to Mahogany, Red Balau boasts similar coloring, texture, and workability; it also tends to be much easier on tools than many other tropical decking species. Comparable to domestic Hard Maple in its hardness and durability, Red Balau also beats out many tropical lumber species when it comes to clarity and color consistency. While it's not nearly as popular as Ipe or Cumaru, it comes out at only about half the price of Ipe, making it even more attractive to many cost-conscious customers.
What Jatoba Can Do That Other Decking Species Can't
Also known as Brazilian Cherry, Jatoba is often used for interior flooring. With hardness ranking close to that of Ipe, this highly stable, insect and rot-resistant species offers an excellent option for exterior decking, too. Its gorgeous red coloring deepens with oxidation and exposure to sunlight, allowing for a seamless transition from an interior living space to outdoor areas.  At the same time, Jatoba decking, like any decking lumber, is a different product than interior flooring.
Continue to Part 2.