A look at African Mahogany, Sapele and Utile.
As a direct importer of many exotic hardwoods, J. Gibson McIlvain has the opportunity to grade and evaluate a wide range of lumber species. When builders ask for our input about particular projects or budget-cutting alternatives, we sometimes recommend a species unfamiliar to them. We consider education regarding various types of lumber to be part of our role. The top 3 African hardwood species, in order of popularity, are African Mahogany, Sapele, and Utile.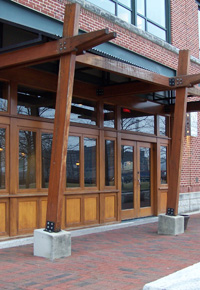 African Mahogany
For hundreds of years, African Mahogany has enjoyed traditional uses in furniture and custom millwork. Still celebrated for its beauty and ease of use, the popularity of Mahogany has decreased in recent years.
The high demand for this species has collided with intense regulations, resulting in a sluggish supply chain and much higher costs. As buyers have sought a more affordable alternative, a positive outgrowth of the difficulty in attaining reasonably priced Mahogany has been an expanded market for other African hardwood species.
Sapele
Priced between half and two-thirds the price of African Mahogany, Sapele is the most commonly accepted alternative species. It's actually harder than Mahogany as well as more stable and dense than the higher priced species. Since the Sapele tree is large, it yields boards of a variety of thicknesses, as well. On the down side, the wood's interlocking grain pattern can make tear-out common, requiring careful milling. The stunning ribbon stripe that appears in quartersawn Sapele contributes to Sapele's establishment of a separate market for Sapele, unrelated to its use as an alternative to Mahogany. Of course, with such a demand, we expect to see Sapele prices continue to rise, as well.
Utile
Also known as Sipo, Utile is far less popular than Mahogany or Sapele. Since it's in the same genus as Sapele, it shares many of the same characteristics. Quartersawn Utile looks similar to Sapele, with its ribbon-like striping, while flatsawn Utile can be easily confused with Mahogany. To the expert eye, however, the darker medullary ray lines can distinguish flatsawn Utile from Mahogany; some actually believe this characteristic makes the wood's appearance superior. A major attribute that sets Utile apart from Sapele is its propensity to allow for tear-out-free work.
As with Mahogany, Utile is a beautiful wood suitable for millwork and cabinetry; it also performs well for exterior uses. The similarly rich coloring and texture makes Utile a suitable alternative for Mahogany, at about half the price. The biggest downside of Utile is that it is still relatively unknown to the general public. Even though its characteristics truly rival Mahogany, many builders are unaware of its attributes.
As more and more builders use Sapele rather than Mahogany, Utile promises to become more and more affordable, by comparison. At J. Gibson McIlvain, our exotic lumber experts are happy to discuss and demonstrate the benefits of each of these species and make recommendations based on specific applications.